LA PLATA FAMILY CENTERS COALITION

ANNOUNCEMENTS
AND UPCOMING
EVENTS
SNAP benefits are
being reduced by
March 2023, let's meet
up to strategize
Mobile Food Pantry
March 14th 1:00-4:30
@ La Plata Family
Center Coalition 
La Leche League | Peer
to Peer Breastfeeding
Support
In-Person: 2nd
Wednesday of every
month | 10-12 | @LPFCC
Zoom: 4th Wednesday
of every month | 10-11
Mobile Food Pantry
On February 21, La Plata Family Center experienced a major success through our first-ever Mobile Food Pantry, 'Food Love'. After rescheduling due to snowy conditions the previous week, it was held just in time to miss the next storm. As frequent clients and
passersby alike stopped to grab groceries from the mobile pantry, we were able to serve one hundred and eighty-three families. Thank you to Christ the King Lutheran Church and our partner, Care and
Share, for providing us with the space and the resources to bring good food to so many people.
Throughout the event community members were able to gather rice, beans, shrimp, fish, chicken, an assortment of canned goods, ready-made food, baked goods, milk, fresh produce, and more. LPFCC is proud to serve and provide nourishment for so many of our wonderful community members! Thank you to all those who came out, we are proud to say our first ever mobile food pantry was a
success!
LA PLATA FAMILY CENTERS COALITION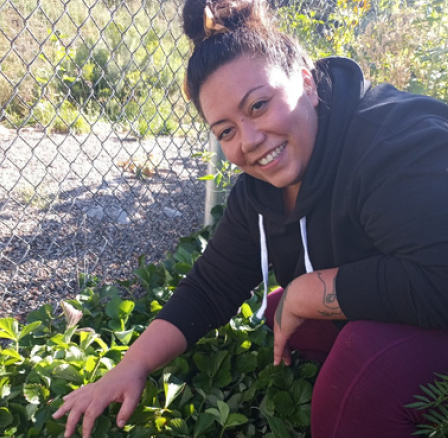 AMBER TURLEY
Amber started as an intern at La Plata Family Center Coalition in 2021 as she finished her degree at Fort Lewis College. She has been at LPFCC for nearly two years and is the Center's Deputy Director after LPFCC "changed the entire outlook" of her career. Amber "wears many hats" in her role as she carries out HR duties, manages volunteers and staff, writes grant proposals with our Executive Director Mariel Balbuena, supervises the Parents as Teachers program, and much more. When asked, Amber stated that one of her favorite (continued next page)
Together We Grow/Juntos Crecemos
One of the many wonderful programs at LPFCC is the Together We Grow/Juntos Crecemos program. Through the work completed by the Together We Grow program we aim to address principal health concerns and social determinants that have been identified by Parent Leaders and La Plata County members from communities of color. The community-identified health concerns include obesity, diabetes, and stress which can lead to chronic health complications. Social Determinants of Health (SDOH) include access to healthcare, nutritious affordable food, education, language barriers, and immigration status were also identified as stressors in La Plata and Archuleta Counties.
The Together We Grow program aims to address and ease principal health concerns and SDOH through community-focused activities infused with equity, diversity, and inclusion principles. These principles address health concerns and encourage behavioral and nutritional changes. As we continue this program, we are guided by four main goals.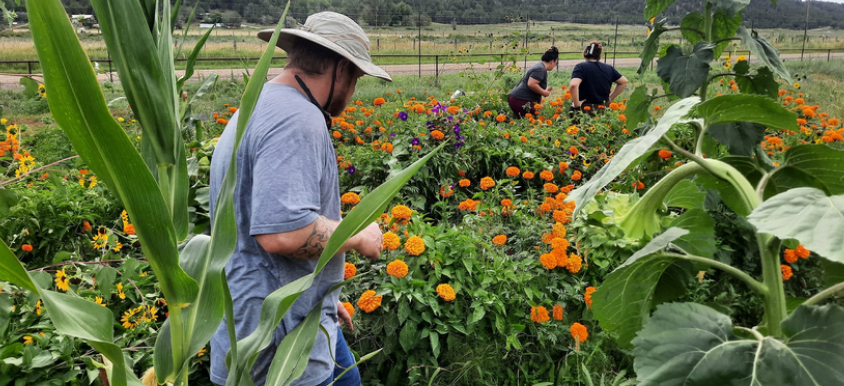 LA PLATA FAMILY CENTERS COALITION
AMBER TURLEY
(CONTINUED) things about the Center is that "this organization functions based on the needs of the community rather than what you or I think the community needs. We host many opportunities for the community to voice their needs which then guide our search for program funding and initiatives to meet those needs." Although Amber hasn't been at LPFCC for long her impacts continue to be noticed.
FUN FACTS
– Amber's autobiography title would be Fostering Meaning in Secondhand Shoes.
– Her ideal superpower would be to communicate with animals.
– Unexpectedly became a farmer through Together We Grow.
Together We Grow (continued)
Goal #1 Grow our own food – We cultivate gardens across five primary sites while distributing over 10,690 pounds of fresh produce in the 2021-2022 year.
Goal #2 Encourage and Promote Participants – Encourage pride, self-confidence, and an understanding of entrepreneurship by utilizing multigenerational wisdom and skills to benefit the larger communities.
Goal #3 Advance Food Equity – Provide easy access to food. In 2020, food insecurity was at 12.2% in La Plata County. The gardens we cultivate as a community allow us to provide individuals with access to foods that are meaningful and meet them where they are.
Goal #4 Cultivate Health – Promote physical and mental health through food production and the growing process. Through the use of the Zink Family's Pond House, we continue providing people with nutritional food throughout the year.
Come help in the gardens! We will be starting this March!