La Plata Family Center Coalition Newsletter
Announcements and Upcoming Events
Announcements
April 18th is Tax Day!
Community garden schedule is posted on our website!
Events
Mobile Food Market

April 4 | 4-5PM @ La Plata

Family Centers Coalition
Spring Resource Fair

April 5 | 4-7PM @La Plata County Fairgrounds

VITA Tax Assistance

April 7 | 11AM-7PM Eolus
Community Room @ Durango Rec Center

Yoga session

April 7 | 5-6:30PM Sunlight
Room @ Durango Rec Center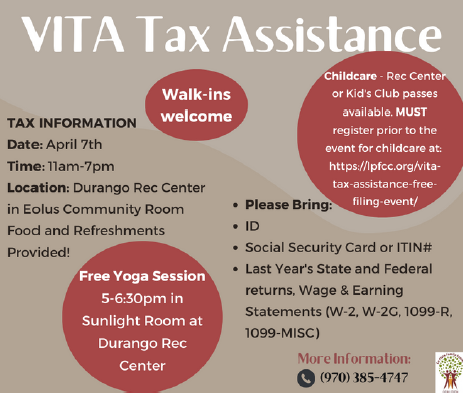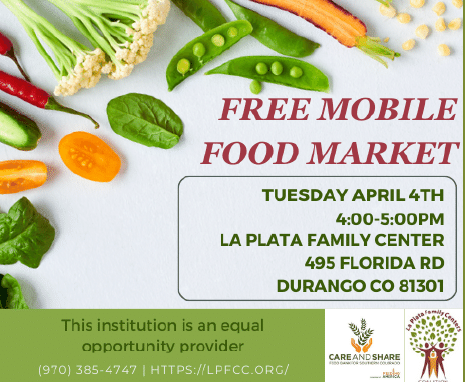 Earth Day Event

April 22 | 9AM-1PM @ the Pond Farm
Farm tour, seed planting day, and fun activities for the kids!
More information on our website!

Weekly Art classes

Mondays 4-5PM @ La Plata Family Centers Coalition

Parent Advisory Committee

More information to come!
 Program Highlight
Family Support Services
The Family Support Services (FSS) program at La Plata Family Centers Coalition is a pillar of daily operations as its services have been around for nearly 38 years.
.
Through this program, our family advocates partner with families to set SMART goals (Specific, Measurable, Achievable, Relevant, and Time-Bound) which give them both guidance and a starting point as they move through the program. Along with setting goals, families are addressing immediate needs through resource sharing, referral networks, financial coaching, and parenting education as they access the centers wrap around services with guidance from our family advocates.
Over time families develop more secure protective factors as well as strengthen family structures. As families come closer to achieving their self-determined goals, they feel a further sense of independence and become more successfully self-reliant. FSS can assist clients as they take themselves from abusive situations with limited resources to maintaining a level of stability that allows them to enroll in school and start a new career.
V I S I T  O U R  W E B  S I T E  F O R  M O R E  I N F O R M A T I O N
( 9 7 0 ) 3 8 5 – 4 7 4 7 | 4 9 5 F L O R I D A R D , D U R A N G O , C O 8 1 3 0 1 | H T T P S : / / L P F C C . O R G /
La Plata Family Center Coalition Newsletter
Recent Events
Mobile Food Pantry
On Tuesday, March 14, LPFCC held our second Mobile Food Pantry Event in partnership with Care and Share Food Bank in the parking lot of Christ the King Lutheran Church.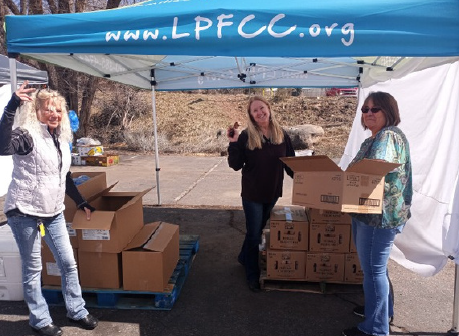 The Mobile Food Pantry was held to lessen the impacts of food insecurity that many residents of La Plata County face and provide them with easy access to good food, especially given the recent SNAP reductions. The Mobile pantry event started with frozen meat, baked goods, produce, canned foods, and more for everyone who arrived and by the end nearly everything delivered was given out!
From newly immigrated families to longstanding clients, to community members who simply heard about the event and stopped by LPFCC; everyone left with something. Whether people are gluten free, vegetarian, or looking for easily prepared food, there were options for everyone regardless of dietary restrictions.
At the Mobile Food Pantry event, LPFCC and its volunteers served 616 people across 170 families with the 4,728 pounds of food that was delivered along with food gathered from the shelves of LPFCC's food pantry. Our second Mobile Pantry was a success!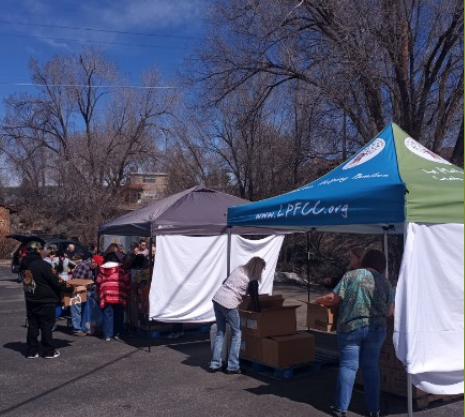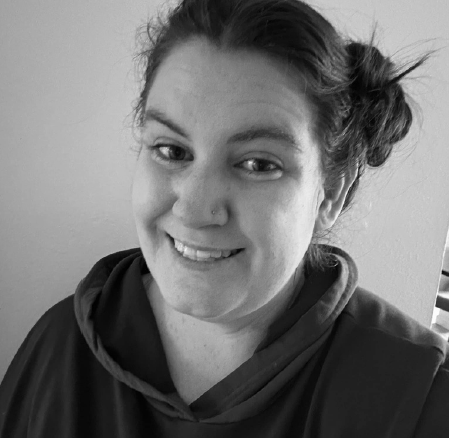 Staff Highlight – Isabelle Vaughan
Family Support Services Advocate
Resource Navigation
In 2021 Isabelle started working as an intern at LPFCC while finishing her Sociology Degree at Fort Lewis College. After using LPFCC services when her daughter was younger, and growing up in the community, she was drawn in by the way the center works not only for the community, but also with the community. As an FSS advocate and Resource Navigator she works with families to provide wrap around services to clients, answers the phone, greets people, and jumps in to help wherever she is needed.
Isabelle's position at the Family Center allows her to continuously create positive relationships with people and support them in truly meaningful ways as the community becomes a part of the "small family" fostered at LPFCC. "I wanted to do that" (Isabelle).
Fun Facts
Isabelle's autobiography would be titled Let Me Tilt Your Kaleidoscope. Isabelle said she is amazed by how a simple tilting of an object can you give you so many patterns that are each "unique and mesmerizing." Just as with the kaleidoscope, life presents so many perspectives and paths for people, "which can be both beautiful and difficult."
Her ideal superpower is animal communication to talk to her cat and lizard
Enjoys diamond painting
Likes cooking
Likes to spend time with her husband and kids

V I S I T  O U R  W E B  S I T E  F O R  M O R E  I N F O R M A T I O N
( 9 7 0 ) 3 8 5 – 4 7 4 7 | 4 9 5 F L O R I D A R D , D U R A N G O , C O 8 1 3 0 1 | H T T P S : / / L P F C C . O R G /